Available from us directly on the gigs and from Refuse Records. 300 copies in total. This CD has songs from "Still No Justice" as the bonus tracks.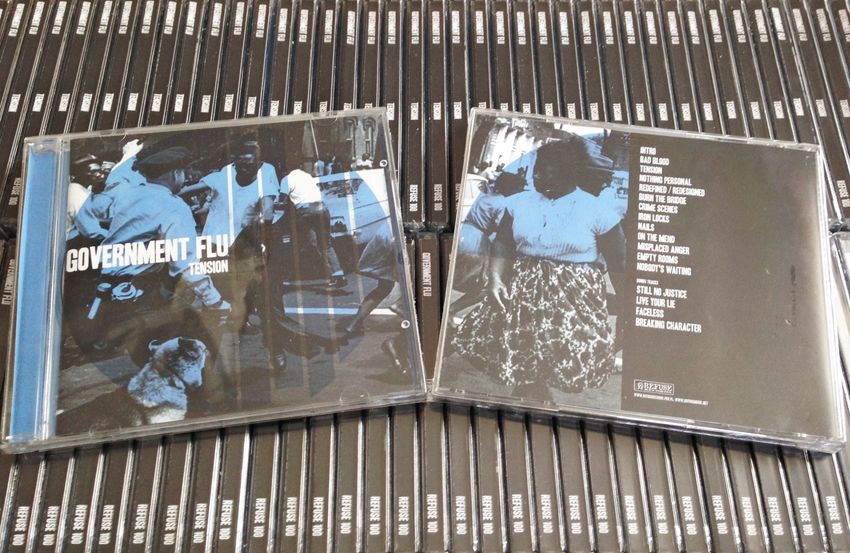 Some time ago Anger Battery Records put out our 7″ Still No Justice. It's almost sold out now. You can listen to the whole EP on our bandcamp page and grab a copy from ABR if you like it.
https://governmentflu.bandcamp.com/album/still-no-justice-7
Pressing:
100 red (some od them came with a bag and ABR stamp as a preorder version)
100 silver
200 black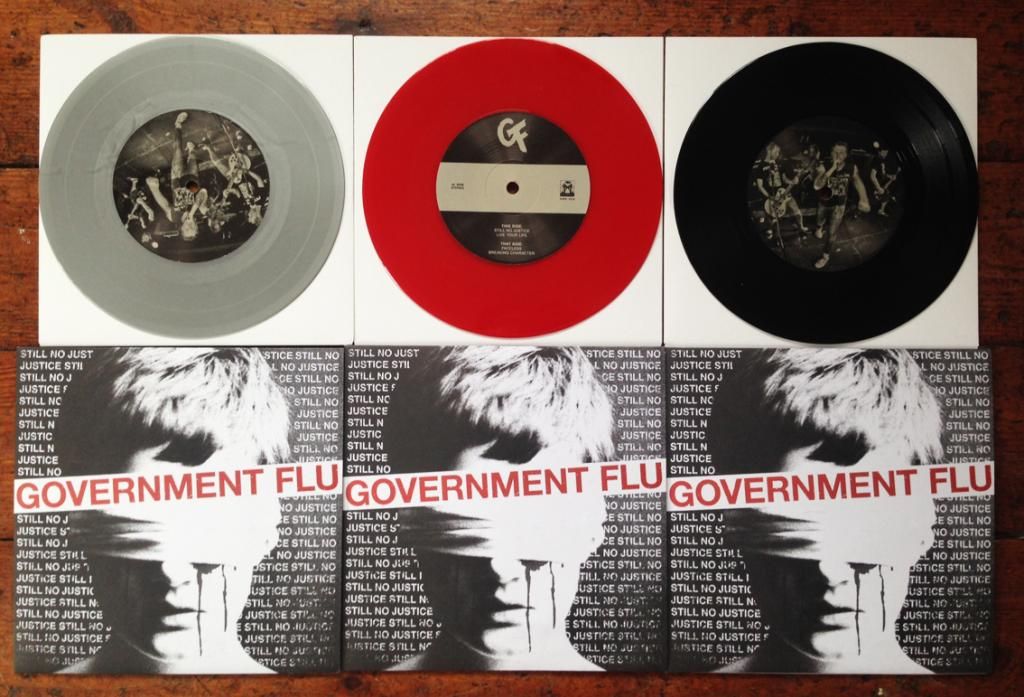 The 1st pressing of "Tension" 12″ is sold out from us and from Refuse Records. 2nd pressing will be available in early autumn. For now you can listen to the whole album on our bandcamp page and buy the digital version if you want.
We've got some shirts leftovers after the tour. Small and medium sizes are sold out, so only L, XL and XXL left. If you want one, reach us at governmentflu(at)gmail(dot)com. Go to MERCH section for more details. Here are the designs:
35 PLN / 9 euro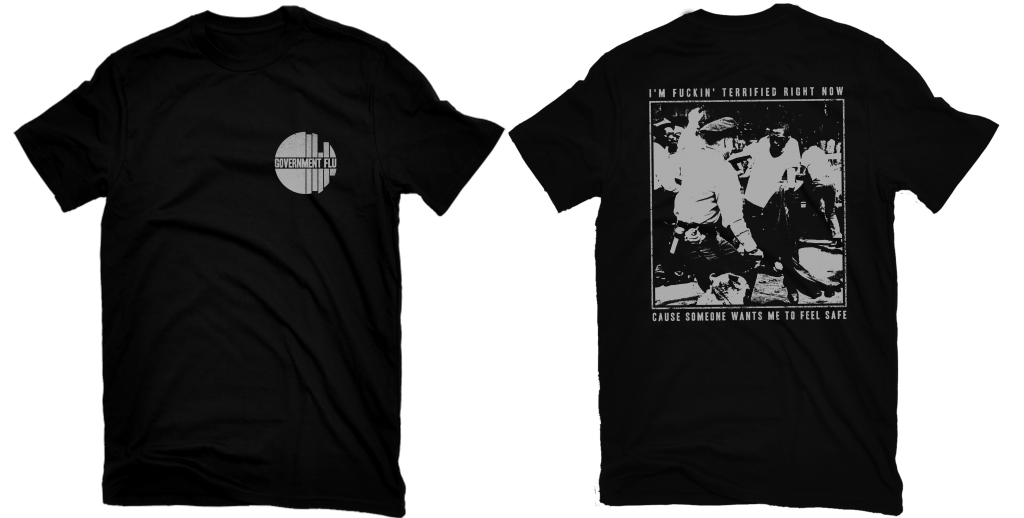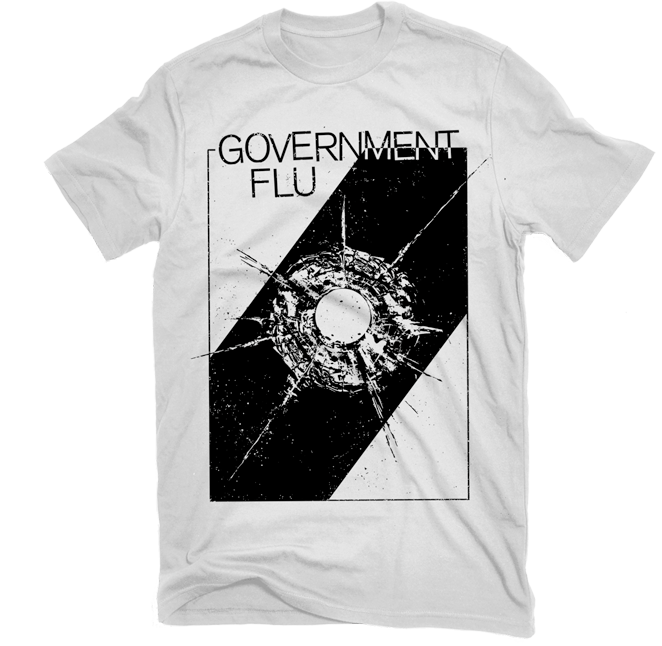 Here is the pressing info and all the cover arts for TENSION 12″:
Regular artwork: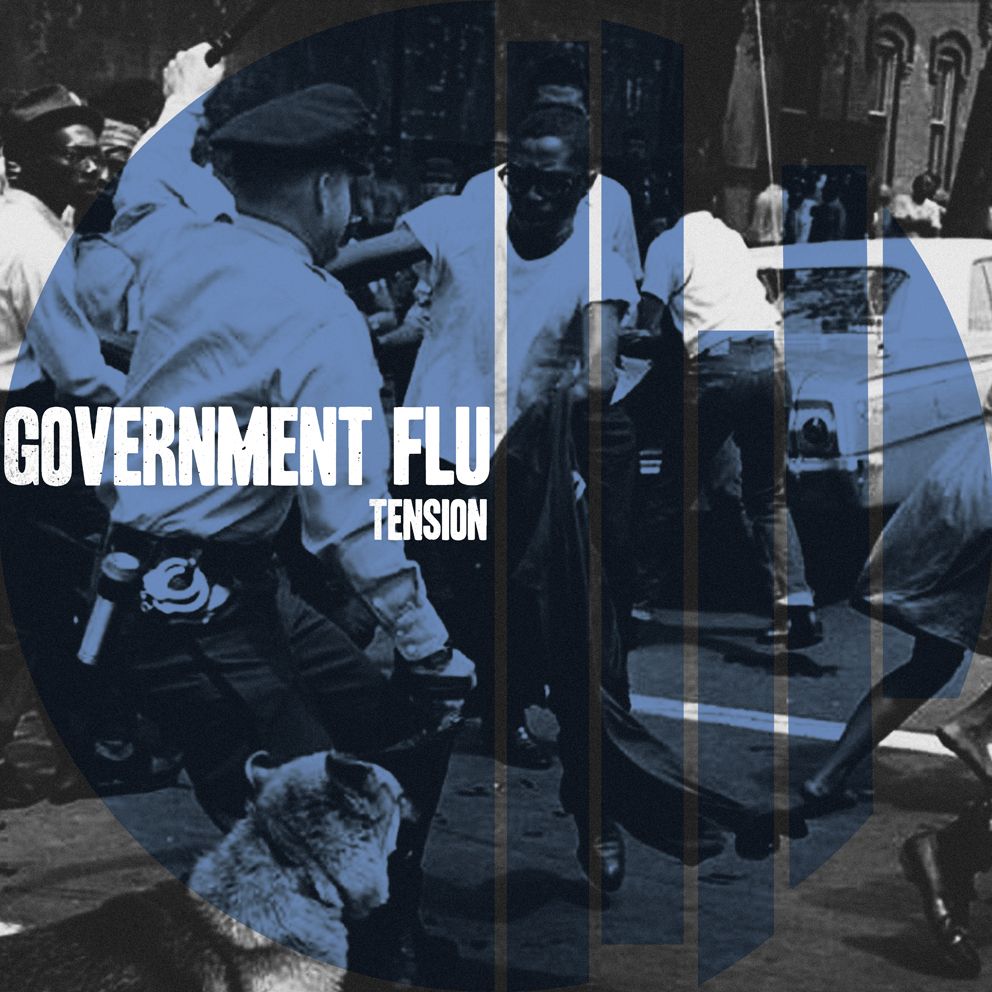 Limited Refuse Records hundredth release. Kto Ukradł Ciastka (Refuse #001) rip-off adapted by Raf Wechterowicz:
US tour edition and Damage City Fest edition: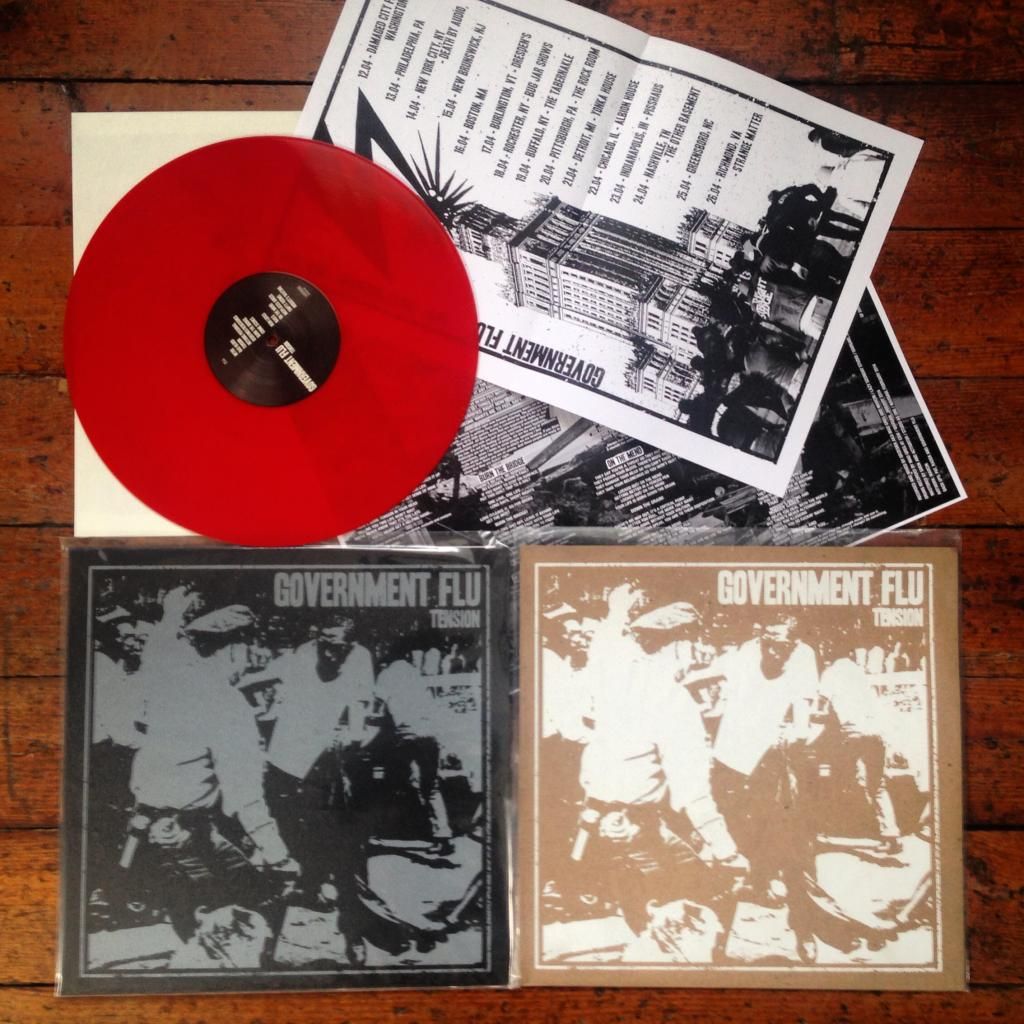 Test press: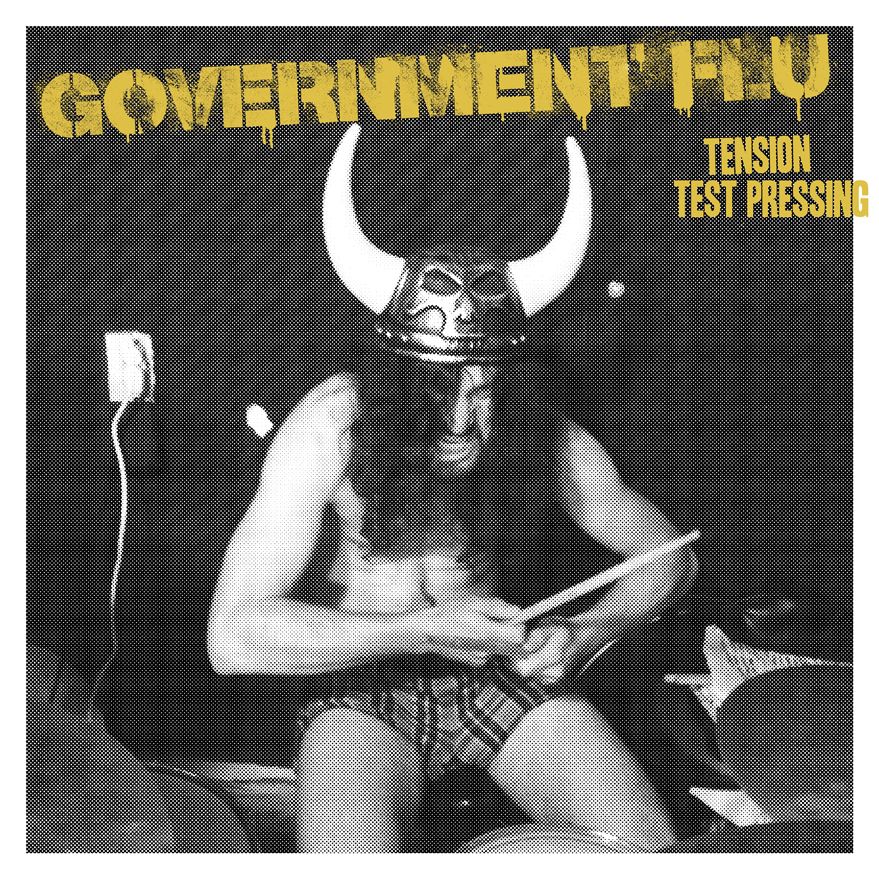 PRESSING:
25 copies test press
20 copies on red vinyl, Damage City Fest edition, silk-screened brown cover, insert with tour poster printed on the back side
94 copies on white vinyl, "Refuse #100" edition, silk-screened white cover , Kto Ukradł Ciastka rip-off
200 copies on blue vinyl, regular cover
212 copies on red vinyl – US tour press, silk-screened black cover, insert with tour poster printed on the back side
The US and A tour was blast! Thanks to everybody who booked the shows, put us up or helped us out in any other way. Special thanks goes out to Nick Tape who booked it all. Man, you're awesome! Thanks to Jay who was taking care of us and made us arrived on the shows in one piece – you rule! Rob Refuse aka Rob Confused, Paul "The Rubber Band" and Ken "The Amp Destroyer" Ramsey were the best roadies! We had a chance to play with tons of good bands, to meet a bunch of good people and see a lot of amazing places on that tour. We'll be back some day hopefully. Thank you all!
Tension 12″ is already out on Refuse Records! The US Tour edition is almost sold out (we brought just a couple of them to Europe). European version will be available as soon as we get the covers. Keep your eyes open and check out Refuse Records' webstore for the details: http://www.refusemusic.net/
Here is an album trailer: https://www.youtube.com/watch?v=Sr93ZjEg838
We have recorded some new stuff at the beginning of the year. It's going to be a 12″ and a 7″. Let's start with this 12″. This one is gonna be put out by Refuse Records in early April. It's called Tension and will contain 13 new songs. Refuse Records will start preorder for this one in a week or so. It's gonna be REFUSE RECORDS' hundredth release, so expect some extra colors, covers etc.
"Still No Justice" 7″ will be out on Anger Battery Records. You'll find there 4 new songs. It will be out soon as well. We will tell you more about it when all details are set.
As for now you can listen to two songs from the upcoming 12″

13.07: Leipzig, DE @ Killed By Plagwitz festival
19.07: Dresden, DE @ DMC w/ Midnight Crisis, Kenny Kenny Oh Oh, Levitations
20.07: Berlin, DE @ Cassiopeia – Refuse Records 20th Anniversary link
21.07: Hamburg, DE w/ Despise You, Between Earth & Sky
22.07: Hengelo, NL @ Innocent w/ Between Earth & Sky, Break Character
23.07: Mülheim an der Ruhr, DE w/ Between Earth & Sky
24.07: Riesa, DE @ Offenes Jugendhaus Riesa w/ Between Earth & Sky (US), SS-20
25.07. AVAILABLE – GET IN TOUCH
27.07: Rokycany, CZ @ Fluff Fest
29.07: Prague, CZ @ 007 – After Fluff Hardcore Matinee link
30.07: Kraków, PL @ TBA w/ Defiance Ohio
02.08: Warszawa, PL @ CDQ – Refuse Records 20th Anniversary link